Kaki King
Indie Amazone of the six stringMusic Magazine Mojo described her as 'the queen of instrumental nu-gaze guitar' while The Independent opted for 'cult guitar heroine on the indie fringes' but 'Dave 'Foo Fighter' Grohl' said it best: 'There are guitarists wha are good and some who are fucking good... and then there's Kaki King!'
No wonder he asked her to play on 'Echoes, Silence, Patience and Grace' but King Has to offer more than a list of admirers on her lates cd 'Dreaming of revenge'.
After America Kaki King wants to conquer Europe with that cd. Her technique is very high and special level. -check youtube- but lyrical she still needs to grow to get both on the same level. Her first instrumental cd 'everybody loves you' was released in 2003, a year later it was followed by 'legs to make us longer' where she sings for the first time. Her guitar style stayed phenomenal but, it became more in function of the sons. This she worked out further in the 2006 release '... until we felt red'. On 'Dreaming of Revenge' you pull out everything. It would be a little to limiting to think of you as just a guitar wonder, don't you think?
I think it's very flattering that people notice me because of the way I play guitar, but that can't be all. There are a lot of people who are great guitar players, only there aren't a lot of women and that's why people notice me. It's great to get the attention but you can't keep giving concerts with only technical skill. Because it gets boring, and I want to get people with good songs.
You have a percussion style of playing?
I'm a big percussion freak. That's why I play my guitar as kind of an percussion instrument. I also tune my guitar in a lot of weired tunings, witch created a special sound and in that way I try to broaden my horizons.

Your getting noticed by all these big names...
That's the way it goes. And I love the fact that I get to play on the record of Dave Grohl, a big hero of mine from my nirvana period. Another important moment was when I was asked for Jools Holand.When you're asked for that show you know you're taken seriously.
And you're also the only female who was published in the 'New God's of Guitar' list of Rolling Stone Magazine and you got to participate in Sean Penn's movie Into the wild.
That is all cool and good for the attention, but if you have noting more to tell, your story will be over soon.

You have been playing guitar since you where little.
I had my first guitar lessons when I was 4 years old, but I wasn't really interested. I was more fascinated in drums and luckily I had understanding parents who let me free. Until the moment I first listened to nirvana and got intrigued by Kurt Cobain. That guitar sound was magical and before I knew it, I was practicing like a mad man. While I was in high school I played in various bands and learned to get over my stage fright.

But it all got really serious when you moved to New York, didn't it?
That's when the music really got to me. I needed new air, studied there and earned some money by serving in the Mercury lounge. A lot of known and unknown musicians come there, even people from the music business. That's where I learned who the industry works more or less. One time I had the chance to perform there and a lot of people seemed to like it. A while later I played at the Knitting Factory and that's how I got my record deal with Velour Records.
What I find special is the fact that you are a guitar heroine in the inde and post rock scene and that while the patent of guitar heroes is founded in the long haired guitar gods of hardrock and metal.
(laughing) I don't think that I look like a metal chick, do I? Otherwise I need to do something about my looks immediately. But it intrigues me that I come across as a great guitarist in the Indie-scene. You reach a totally different audience.
'Dreaming of Revenge' is not a typical guitar album of a guitar wonder.
Certainly not. I want to create a good mood, one that starts acoustically but is completed by all sorts of electronics. I realize that there is so much more to be discovered. The more I play guitar, the bigger the frustrations get. You always want to go further even as songwriter I still have a long way to go. But I have faith in it.
[img]
[/img]
[img]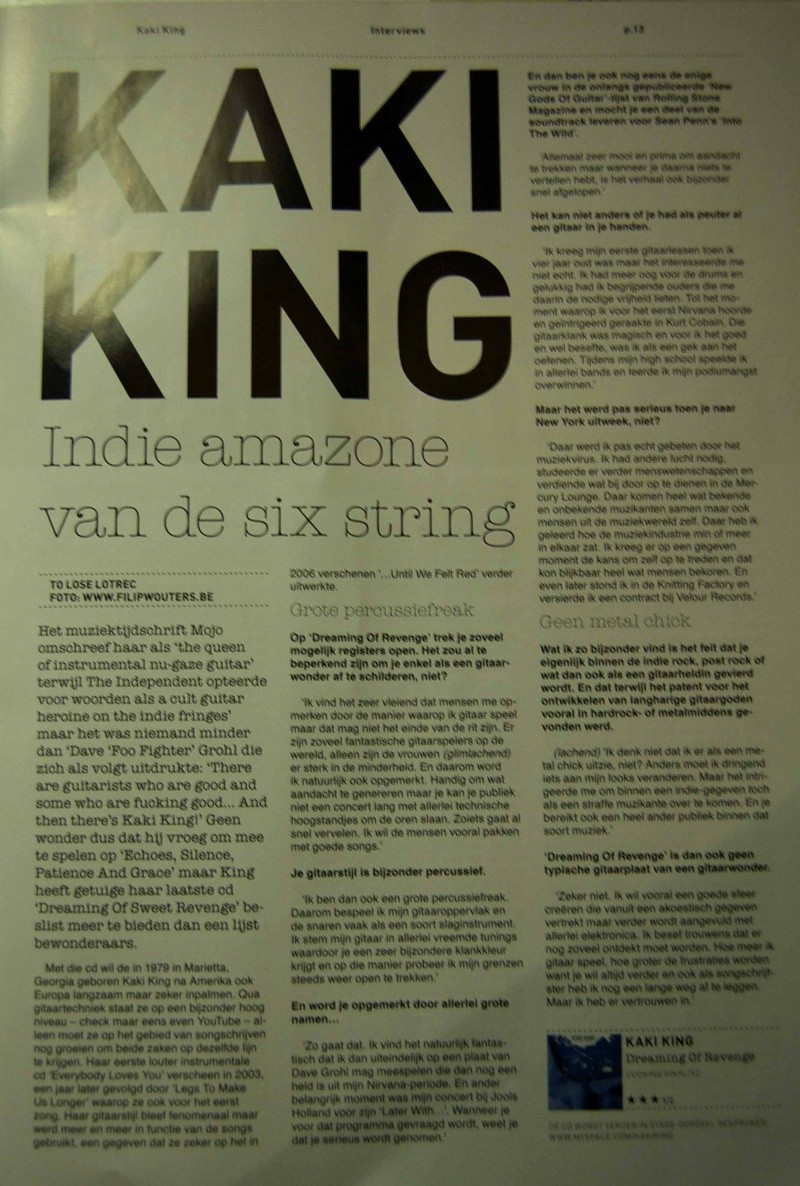 [/img]
'Dreaming of Revenge' was rated 3 1/2 stars in this magazine.
The article is from Stage #155, August 2008
Little girl, big guitar.
Despite her royal name and virtuous guitar playing, Kaki King is still unknown in Europe. ZiZo presents: a guitar goddess from Georgia.

Kaki King comes from Atlanta, Georgia, but she lives and works in New York. Since 2003 she released four cd's, with mainly instrumental music. In the end of 2008 she was in de Muziekodroom, Hasselt, where she performed songs from her latest cd, Dreaming of Revenge. You're from the USA, and you live in New York. A few months ago 9/11 was remembered for the seventh time. How did you, as musician react to what happened in 2001?
The circumstances had a big impact on me. I was just graduated and didn't had a job. I had nothing to do. It was the end of summer and in a second the world was completely fucked. Liberation was limited in New York. Everything was out of balance and it seemed like there was no future. So I started playing in the subway. It was a reason to come out, be with other people. New York has had that all the time: the music and musicians in the subway. It was actually the start of my career.
You are now on tour in Europe. Are we getting to know your music a bit better?
Yes, we finally have a record label and pres and all. And I worked hard for it in the USA.
Your new cd is called more commercial that you previous work. Was it deliberate?
I think that everybody thinks it's more commercial because its more melodic. And I think in Harmonies, but people seem to think in melody's. That's why I think that tis record is easier for people, to sing -along to, it's easier to get stuck in you head.
The album is called 'Dreaming of Revenge'. But it sounds more dreamy, I don't hear any feelings of revenge.
The albums is certainly not about revenge. The title is a sentence of one of the songs, where I sing "Life being what it is, we all dream of revenge". It means that just by being here you dream of revenge on someone or something. It's just life, and I love that sentence because it's tongue in check. The title is just very ironic. I have no feelings of revenge for anyone.
So you're not in a revenge mood?
No, absolutely not, I'm the first to forgive.
The song 'Pull me out alive' reminds me of Tegan & Sara. Did they influence you?
Yes, they did. The are wonderful songwriters. I played on their latest record, 'The Con'. That was very fun. I was planning to record my own album around that time and I'm not saying that I changed something fundamental, but still. I've thought a lot: as songwriters they are so brilliant.
Did you ever hear an ridicules comparison between your music and others?
Yes, like in Rolling Stone (only woman in the guitar gods list). In Rolling Stone they compared me to Bootsy Collins and Eddie Van Halen, and that's complete nonsence.
Your fan base exists of a lot of musicians, does that say anything about your music? Are you difficult?
I don't think so. I just think that there are not a lot of poets fans of me, because I don't use a lot of words. I do have a lot of fans that are musicians. What I do on guitar is a bit daring. Maybe that's what intrigues them. Seeing someone else do something different and by that getting new ideas yourself.
Do you have knowledge of a lesbian fan base?
I think my fan base is very varied . And yes, lesbians are a part of that too, but I don't think they only come because I'm gay.
Is it easier to be a gay musician, what do you think?
Maybe it's easier to have an unusual job, Look at is as musicians who have a tattoo. If you have a job witch doesn't fit the normal jobs it's easier to have your own lifestyle within it. It's more accepted. It' much easier to be a lesbian musician than ... (thinks) ... to clean the stairs of a church. (laughs).
Did you ever feel pressured to hide you sexual orientation?
No, never.
Do you think it's different with other musicians?
Yes, certainly. I know a few artist that aren't out because of that reason. And it's funny, because the whole idea of a coming-out is getting less irrelevant. It used to really mean something. You had to be out and talk about it, because you had a lot of people to represent. Now you can have a private life. Not eveyone who plays music talks about who they are dating and why or about their past. It feels like gay musicians can more and more live normal lives. People have fought for that change, but it has definitely changed.
Did you seen any changes in your life?
Absolutely. I remember that when I was in high school, I didn't know any gay person. But when my sister was in high school (4 years younger) she used to go to party's with girls, she had something with. Shes totally straight. Buts it's like the atmosphere has changed. It doesn't matter anymore.
Does the fact that you are a woman influence your career?
Maybe a little bit. some people would say that I would have never been where I was now if I was a guy or ugly. But you know, if I look at them... I'm not going to say any names, but I mean those older, unattractive en (laughs), who are very famous musicians,, than I ask myself: where is that double standard? And the more and longer I doing this, the more I repeat: if you only play for other musicians, it doesn't matter how you look, or how cool you are and that you say funny thing or not. Those people ask themselves only that you can play or not. And that's who I am, that's the kind of people that I feel good with. But I start to feel more and more that there are a different kind of people who come to the show, people who care about your clothes, your hair, who you speak to and who your friends are. All those things are irrelevant for what you do on stage. I wonder: do guys have to deal with that too? Off course they do, but I start to feel it more than when I was younger.
It seems like you're not really keen on being very famous and all of that.
It depends. What's hard is that you always have to seem interesting.I don't like the idea that people are so interested in me. I write good guitar songs, but overall I'm not that interesting and I don't try to be cool. I'm always great full if anyone wants to talk to me or wants to do an interview, but it feel weird. I want to honor my cd and my performance, not myself. I'm also very bad in making myself look interesting. Tegan & Sara are experts in that. I should take lessons from them.
Your music is mainly instrumental and it's very good for soundtracks. You worked on the soundtrack for Seann Penns movie 'Into the wild'. Are you thinking of doing that in the future?
Yes, I've always done scoring. It's easy. Because your music is part of something bigger and the risk is smaller. The thing that isn't that great about it is, that you not you own boss. Sometimes it's a productive experience but it can also be very frustrating: waiting, restarting,... I know people who only do soundtracks and they sometimes want to pull their hair out. But I certainly still want to do that, it's very liberating. You have to fall back on your instincts and your emotions when you write that kind of music.
[img]
[/img]
[img]
[/img]
[img]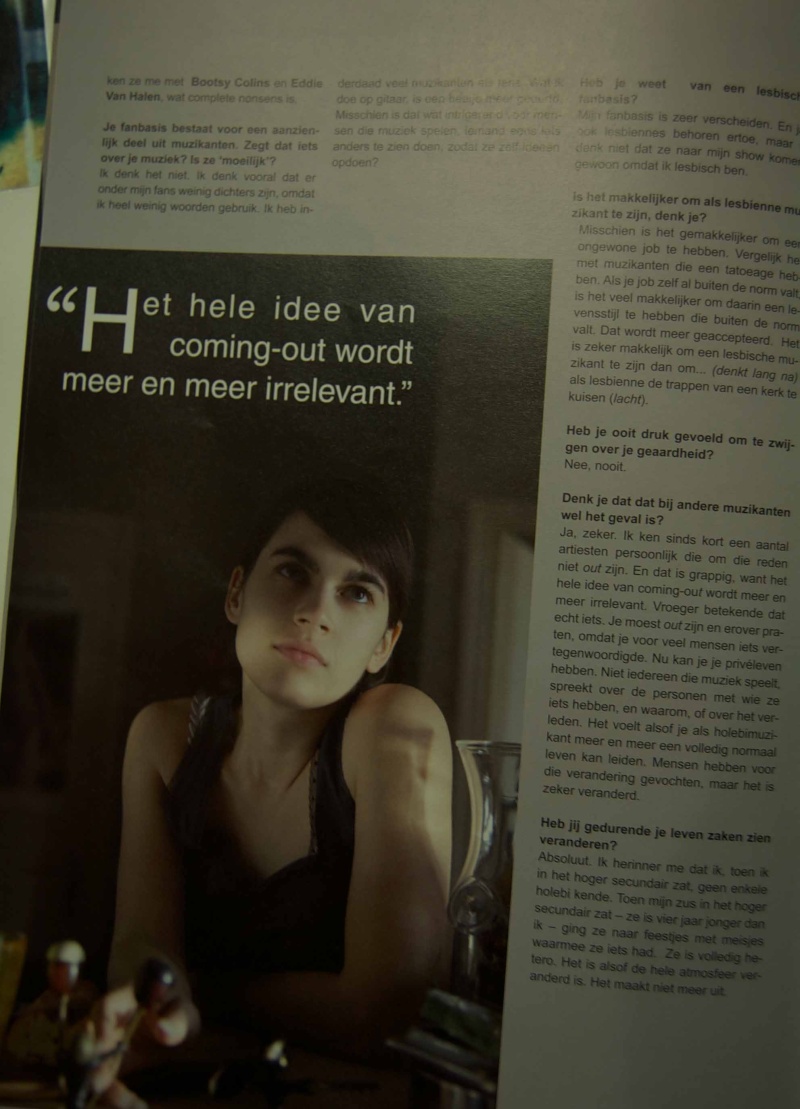 [/img]
[img]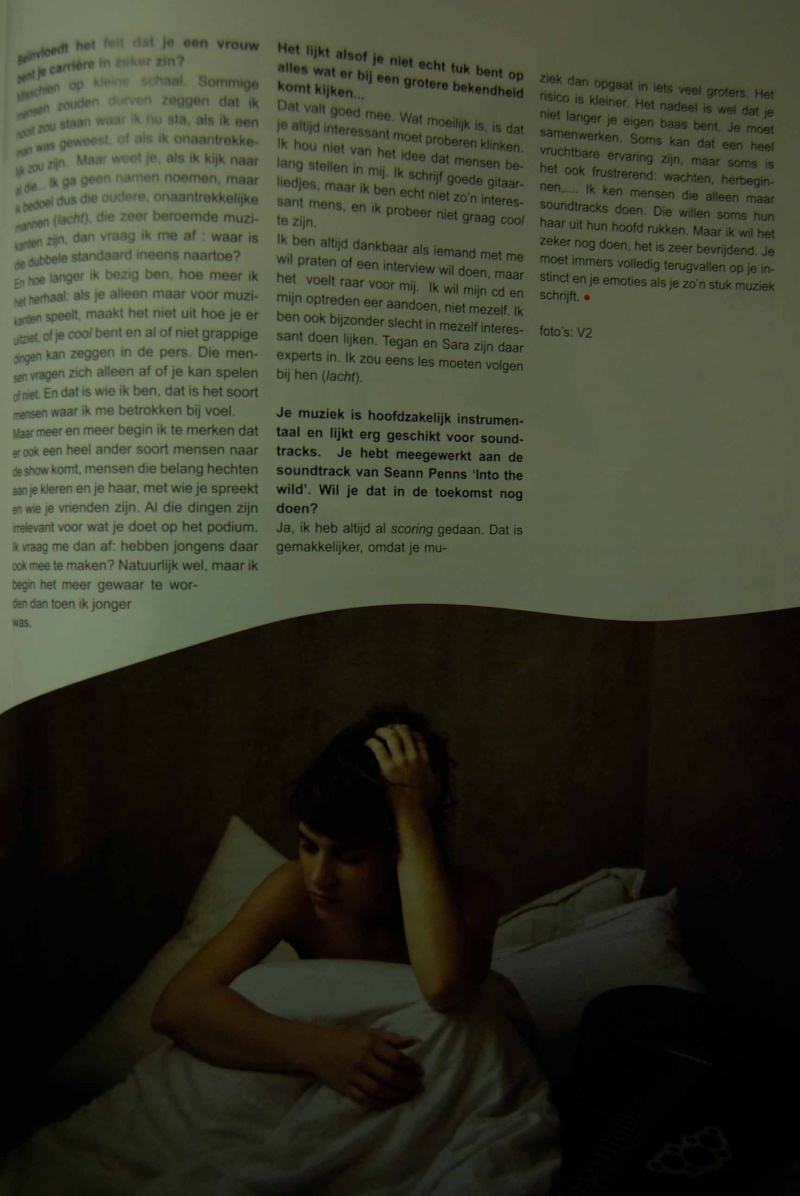 [/img]
This article is from ZiZo #92, Jan/Feb 2009
thanks!!
i didn't know about the first one.



Number of posts

: 115


Age

: 28


Location

: belgium


Registration date :

2008-10-06



I found it a few months a go when I was in a bar in Antwerp.
It was just laying there on the table and I took it with me.
thanks a lot man for the translations and the pics!!



Number of posts

: 6


Age

: 32


Registration date :

2008-12-27



thanks Britt, very appreciated.
Admin




Number of posts

: 351


Age

: 28


Location

: DE


Registration date :

2008-08-11



I was happy to do it and planning on doing it for a long time!
And I finally had time.

---
Permissions in this forum:
You
cannot
reply to topics in this forum